I've been thinking about making a shirt based on 'The Empty Child' for a long time now, and Father's day was a great excuse to make one (plus, it was my dad who got me into Who).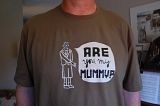 Click for bigger.



Since it's only one shirt I didn't want to bother with the full-blown screenprinting process, so I made a sketch, traced it backwards onto contact paper, and sponged on Speedball ink with a foam brush. I handpainted the kid's hair, ear and hand (with the end of a comb--I don't recommend that!).

I'm pretty happy with how it turned out.