I had a silly idea while charting out a new dalek pattern and then just had to crochet it.
So, here's my "Daleks in Love" filet crochet doily-thing.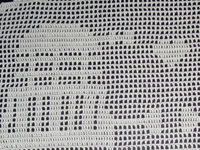 Made with size 10 cotton crochet thread.
Finished size is approximately 26" wide by 17" high (65 cm by 42 cm).
That's a U.S. quarter in the lower right for scale.
LOL!
Current Mood:
amused