Somebody from
geekcrafts told me to post here, so i am!

I wanted to send off a piece for a show in the UK, so this February this is what I stitched.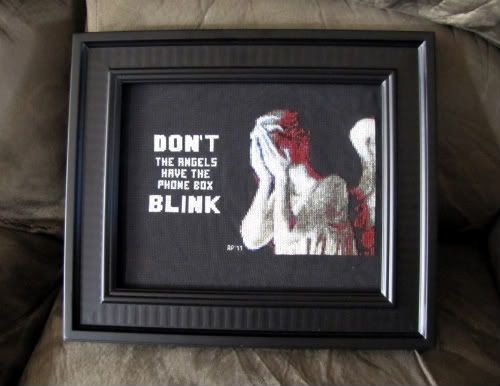 It's a Weeping Angel from Doctor Who. I used a conversion program to get the design going. It's stitched on 16ct black aida, using 44 colors of floss. The words 'The Angels Have the Phone Box' are even stitched with glow-in-the-dark kreinik filament. (which btw was the trickiest part of the whole thing, believe it or not) Finished size is approx 7x9 inches.


If you're interested in the pattern, you can dload it here I've used myphotostitch a number of times before to generate some 8x10 fandom patterns. You can check the gallery for my designs, username is solobacc :) And if you are having trouble making your design, you can email me at brodeurbunny30 at livejournal dot com and I will gladly help. I've photoshopped the hell out of images to make them work for converting before :)

**EDIT** updated dload link through MF. enjoy!