These projects always begin with conversations between me and my husband. I mention making a scarf. He brings up Doctor Who. I say TARDIS. He says pockets. I say buttons on the pockets. And then this comes into being: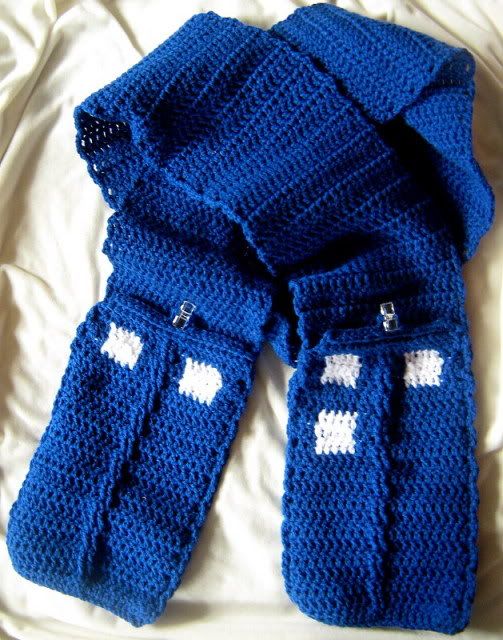 For anyone who wants to attempt their own scarf, I give you my pathetic attempt at writing out the pattern that's been in my head for the last month or so.
Using an H hook and worsted weight yarn (I used Red Heart Super Saver in Royal Blue. It used just under two skeins, if I remember correctly.) chain 22. Double crochet in fourth chain from hook and in every stitch across (counting the three chains that stand for the first double crochet, that should be twenty stitches across). Chain three and turn. Continue the rows of double crochet for 166 rows total. Fasten off.
For the pockets, chain 22, double crochet in fourth chain from hook and in each stitch across. Chain three and turn. On second row (and nearly every row following) double crochet in first nine stitches (not counting those three chains standing for the first double crochet) and then front post double crochet in stitches 10 and 11. Regular double crochet the rest of the way across. On the reverse rows, when you get to stitches 10 and 11, do back post double crochet so that the ridges continue to be on the same side. Continue this way for 12 rows. On row 13, add the white yarn for the sign. (The sign and the windows are five stitches wide and three rows high.) Begin the windows on row 18. After completing the windows, continue in blue for one more row, then do a row of back post half-double crochet for the ridge at the top. When you turn, slip stitch in place of the first two double crochet, then another row of front post single crochet, until you get to the last two stitches, which you won't crochet in.
To make the button loop, add a row of slip stitches along the top, but in the middle of the row, make about 8 chains, and continue slip stitching to the end. Fasten off. Make two.
Then it's just weaving in all the ends on the pockets, slip stitching the pockets to the ends of the scarf, and weaving in any final ends.
Go to your local craft or fabric store and find the most TARDIS light-like button that you can find, and sew it on to the scarf.*
Pfew.
Also, I made these Baby Daleks, which started out as toys for my daughters (both under the age of two). I stuffed them with fiberfill and several jingle bells, so that they make a great sound, but there aren't any choking hazards.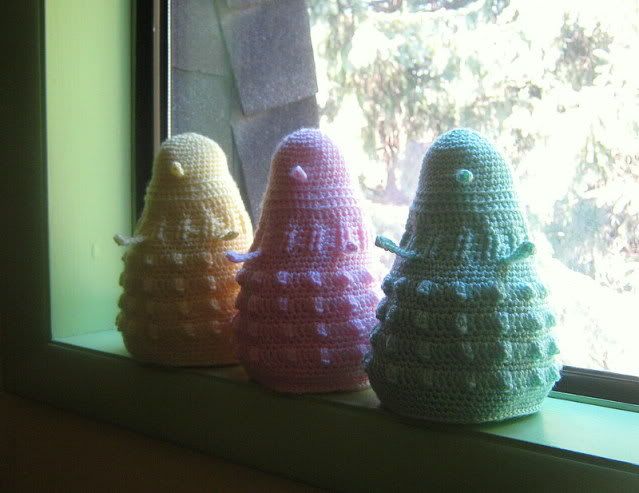 Once people saw pictures of the baby Daleks, I had so many requests for them, I could only suspect that people weren't just getting them for babies. :P
*I freely admit that there might be a mistake in that pattern. If you try it, and something doesn't work (probably in the front post/back post double crochet area, since I might have reversed some of the rows from memory) just leave a comment and let me know. :)